+25,000 Adapters
Antona has been designing, debugging, manufacturing and selling electronic products since 1980.
We have been designing serial adapter products for the industrial control market since 1995 and have delivered OVER 25,000 adapters. All of the products we design are manufactured RoHS (lead free) in the USA. That is 95% of everything we sell.
Our adapters are used in scores of industry sectors from desktop video editing to turbine engine test stand monitoring. All of our products are delivered from stock on hand.
Our ANC-6090 converts RS232 level signals to RS422 or RS485 differential signals for noise immune communication at 921 Kbaud at distances up to 4000 feet The adapter can also be used for RS232 to TTL/CMOS serial interfacing. The adapter plugs into the serial port of the PC and is powered from the port for most applications. Our ANC-6185 adapter version offers either terminal block or RJ-45 connectors instead of the DB-9F of the ANC-6090. As with all of the converters we manufacture, a comprehensive User's Manual is included.
USB Serial - Our low cost ANC-6204 multi-interface USB adapter provides RS232, RS422, RS485 or TTL application in one converter. Now you can stock just one adapter to fill all your legacy "RS" serial interfacing plus provide a low level TTL control interface. The adapter includes a 3 foot 'type A' cable connection that plugs into any PC or MAC USB port. The RS232 DB-9M connector is compatible as a PC comport and the RS422/485 DB-9F follows the SMPTE pinout arrangement common to multimedia equipment.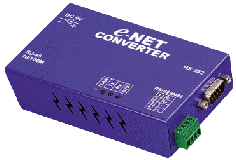 Connect an RS-422, RS-485 or an RS-232 serial device to an Ethernet interface. Take a look at our ANC-6132 - Ethernet to Serial Adapter. Ideal for prototyping, short production runs or retrofitting existing serial devices to make them ethernet compatible. To the designer, the adapter looks like a serial interface which can be remotely connected via ethernet to a Pc's virtual comport. Our serial ethernet adapter includes a power supply and disk of software (Virtual Comport Driver, User's Manual and Sample source code drivers in a variety of languages).
Need Help With Our Products?
If you are in a hurry for information on Antona's products, please Contact us.
Updated 03/01/2015 23:00
Copyright © Antona Corporation, 1996-2015